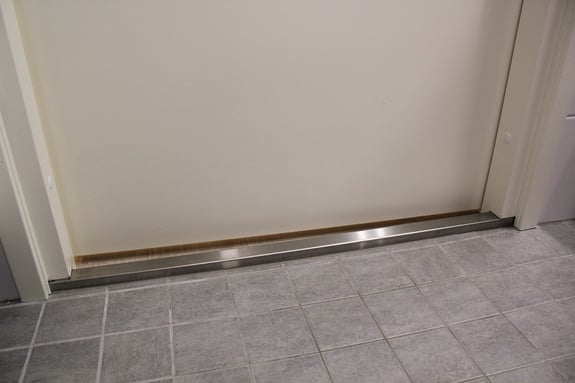 STAINLESS STEEL THRESHOLDS
With Kiilax threshold series, you get stylish and elegant results for e.g. the bathroom
KIILAX THRESHOLD IS DURABLE AND ELEGANT
VERSATILE
STAINLESS STEEL THRESHOLD
The popular Kiilax stainless steel made thresholds are the perfect final touch for bathrooms and other doorways.
The doorsteps are available for door sizes 7–10 with many additional special sizes for wet rooms.
The height of the default profile is 25 mm with a depth of 35 mm. Bevelled steps are also available with one edge at 25 mm and the other at 12 mm.
The products come with a plywood batten sized for the stainless steel element. The batten is installed before the moisture barrier and the stainless steel doorstep is installed with the doorframe by cutting a slot in the frame for the doorstep.
If you cannot find a suitable doorstep kit in the standard sizes, get in touch with us for a tailor-made solution!
ALUMINUM THRESHOLD
Stylish anodized aluminum doorstep kits. Easily shortened under site conditions.
Thickness: 1.5 mm
Lengths: 920, 1050 mm
STAINLESS STEEL CORNER PROTECTORS
The Kiilax stainless steel made corner protectors provide effortless and stylish protection for structures in the home and public spaces.
The corner protectors are made of brushed one-millimetre stainless steel with a protective film – this makes them strong, long-lasting, and extremely easy to clean.
We stock 30 × 30 mm protectors in lengths of 1,480 mm and 2,970 mm.
We can manufacture protectors according to customer needs with special sizes available upon request.