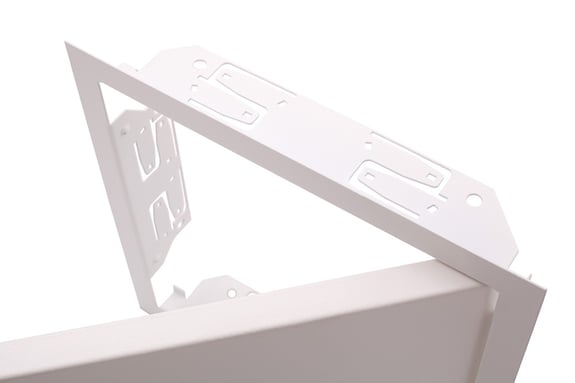 ACCESS PANELS
Kiilax access panels are carbon neutral manufactured high quality products from Finland
PAN-ACCESS PANEL
FINE-LINE SEAM ACCESS PANELS
This KPS-product comes outside of Kiilax-selection.
Gypsum-faced fine-line seam access panels are possible to paint the same color than around the installation place. This access panels have aluminum frames, white-colored
PAN-ACCESS PANELS
The PAN access panels can be decorated with paneling or coated to match different structures, such as suspended ceilings. The frame of PAN access panels is made of moisture-resistant MDF material, which makes for effortless installation.
SUPPLIES
PML-magnetic panels additional fixings
Supplies for PML-access panels.
TRIANGLE KEYS
Triangle keys for hinged access , fire-rated and Acoustic panels.
KUNDBERÄTTELSE
BYGGFÖRETAGET SOIMU
Construction company Soimu trust Kiilax products, Access panels, Stair protection and stainless-steel thresholds were delivered Soimu's construction site in Joensuu.
PATENTED ACCESS PANELS
If you want Finnish, cost effective and easy to use access panel, is Kiilax's PTL-series for you! Patented quick mounting mechanism saves time, money and nerves when you are installing access panels.
1
PATENTED QUICK MOUNTING
You can install panel without any tools.
2
COST EFFECTIVE
You save time and money.
3
CUSTOM MADE
We manufacture panels for all sizes.
4
FINNISH MADE & CARBON NEUTRAL
Our access panels are carbon neutral and responsibly manufactured.
DOWNLOAD PTL-ACCESS PANELS PRODUCT BROCHURE
Conventional hinged Kiilax access panels with our patented quick-mounting system and certified with the Key Flag Symbol. If you are looking for a Finnish, cost-effective, and easy-to-use access panel, the Kiilax PTL series is for you! The patented quick-mounting mechanism saves you time, money, and effort in panel installation.
Contact sales
Kiilax-products are made in Eastern Finland. They are patented, high quality and extremely easy components for construction companies, harware store chains and private builders as well.
Our products are awarded with the registered collective Key Flag mark, which demonstrates that the product has been manufactured in Finland. PTL-, ESL- and VIE-series are carbon neutral!